STI Dating??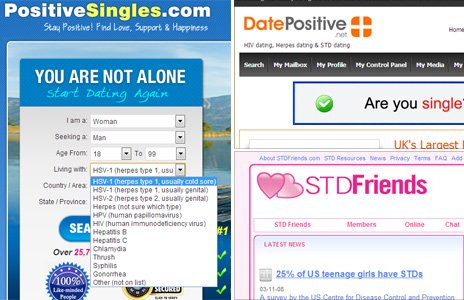 When it comes to online dating, there are many websites that cater for specific preferences.  You can join sites to meet your match based on race, religion, sexuality, physical size, and so on.  BBC News Magazine has reported that the latest niche area to see a large rise in popularity is for those with Sexually Transmitted Infections.
The past decade has witnessed the growth of niche dating websites – from Amish to Zombie enthusiasts – but a particularly burgeoning sector has been the proliferation of STI dating websites.

Now there are so many, there are Top 10 lists.

Many have taglines such as "Stay positive! Find Love, Support and Happiness" or "Plenty of Positive Fish". Some sites, such as H-YPE or H-Date, are aimed specifically at people with the most common types of incurable STIs, such as herpes and HPV, which causes genital warts.

"If you have just been told you have herpes or HPV and you feel like your life is over, well, we are here to prove to you that it's not. In fact, it's a whole new start," it says on H-YPE.

Others, such as PositiveSingles – which has 30,000 members in the UK, accumulating 100,000 new members last year worldwide – and DatePositive, which has more than 6,000 profiles, allow users to search for people with almost any sexually transmitted infection.
Read the whole story here…
Wow, that is quite deep, but a very good idea.  People with diseases can look for love without feeling they are being judged or discriminated against.  All the best to them!
What do you think about the concept, Lurvlees?