How They Lurve: Adrian Scott & Natasha Simms
Adrian Scott is a scriptwriter, producer, director and co-founder of Mellow 9 Productions. He and his partner Natasha enjoy a relationship built from a childhood friendship. Here they let us know how they lurve:
How long have you been together?
Adrian: As of February 14th 2019 we have been together as a couple for one year and eight months, but we've known each other for 28 years.
Natasha: We've known each other since secondary school.
How did you meet?
Adrian: I was a third year (as it was called back then, but known as Year 9 now) and Natasha had just started. My friend, Richard, knew one of Natasha's friends and made the introductions.
Natasha: I was in the same class as Adrian's younger brother, so Adrian was one of the older boys.
Adrian: We re-met in 2017 when Natasha saw my name come up as a Facebook friend suggestion, and she reached out to say hello. I replied, "Hello… is it me you're looking for?" and the rest is history. Actually – the rest is happening now!
Was there any type of attraction when you first met?
Adrian: When I first met Natasha we were kids, but although she was among a big group of girls (I call it her little gang of black girls), for me Natasha stood out the moment I laid eyes on her. There was something about her aura and her spirit, and I'm glad to say that 26 years later I found out she has the same aura which attracted me back then.
Natasha: I always thought Adrian was cutest in his crew. He always stood out to me, and we shared many teenage laughs and jokes. But, because he was older than me, I never was brave enough to entertain 'us' further. He was my classmate's older brother! But there was always an energy between us.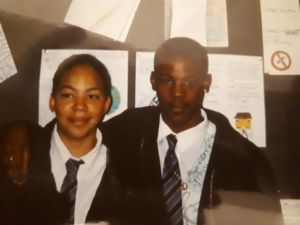 Who made the first move?
Adrian: Natasha definitely made the first move! I had no idea she was single and ready to mingle with me, so I would not have made a first move. Actually, she had no idea I was single either, but I had been single six years, and she three or four, so she reached out to me just to say "Hi." We quickly found out we were both single. But yeah, I can confirm that it was Natasha who made the first move.
Natasha: Well I guess that was me! So what happened was after I broke up with my son's father, I had been in my shell for a very long time – four years with zero interaction with the opposite sex. I was celibate and did not entertain any men. My sole focus was my son and I. Then in June 2017 I felt the need to free myself from my self-imposed shackles, and venture out into the world again. On my first night out I went to a party and got talking to someone. It was nothing serious, but we maintained a phone conversation for a few days. As you do, I decided to look through said guy's Facebook friend list to see who we knew mutually, and lo-and-behold one of the first names that popped up was Adrian Scott – and my spirit soared. So I messaged him to say hi, because we hadn't spoken for over a decade, and he said "Hi" back! It turned out he'd been single for six years, and I four years. The rest is today's history.
What did you do for your first date?
Adrian: For our first date we went to Asda to get something to cook! I could have gone to any supermarket, but because we met up in Clapham Junction, Asda was the most convenient. If I had literally met Natasha for the first time I might have gone to Marks & Sparks or Waitrose! (Laughs). Then she came back to mine to cook and eat and talk with me. We spoke for hours and hours. It was as an amazing date, the best I've ever had!
Natasha: We spent the afternoon and evening exchanging the stories of our lives, our history, where we had been and where we wanted to go. I wouldn't even call it a date as such; it was a re-connection. Learning about each other, our auras, our energies. But a bottle of red wine was involved…
How did you decide to become exclusive?
Adrian: I knew as soon as Natasha contacted me that we would be exclusive. She would never have contacted me if she wasn't single, and I was on a journey of self-discovery and looking for true love. For me, Natasha is my true love and I somehow always knew it.
Natasha: I knew after one of our 'deep' conversations that I wanted to be with Adrian. We announced it worldwide on Facebook after attending a fancy dress party – he was Batman and I was Batgirl. That picture is iconic. Adrian captioned it, "The masks are off." That is literally how we announced it to the 'outside' world.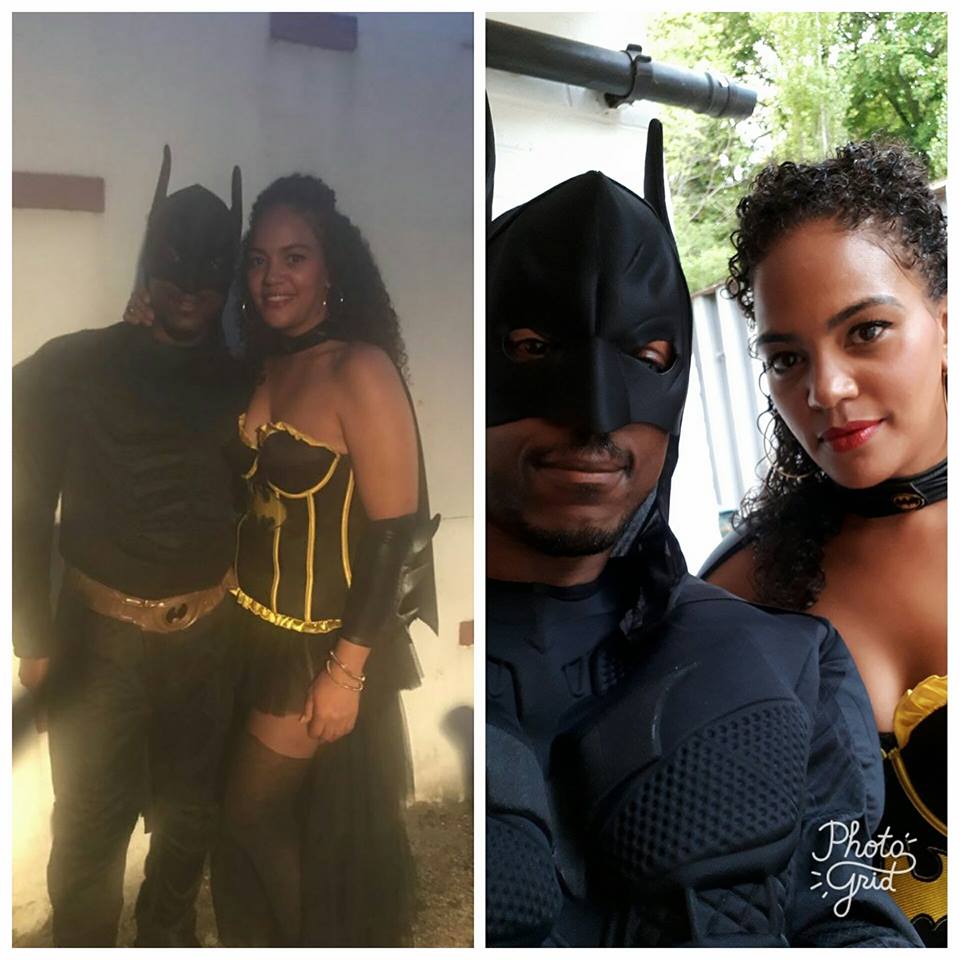 What does it take for you to make your relationship work?
Adrian: I have to work on being the best me, recognise my faults and work on them. I also need to listen and to never forget the spark that connected us. It's about being kind, extremely honest, considerate and understanding, and not to expect Natasha to be what I myself am not. For example, if I have something I am lacking and I expect Natasha to make up that shortfall, then our relationship won't work. If I love myself to the max, then I will love Natasha to the max. It's also about compromise and being a partner in the true sense of the word, and not bringing past relationships into this one. Damn, that's a lot to make a relationship work! Also learning from past mistakes is key – if I am the best me and Natasha is the best she, then we will always be the best we!
Natasha: What's been working for us so far is all the things Adrian outlined. Communication is key. Understanding myself so that I can understand Adrian, and sharing our thoughts. Talking through our fears, our desires and being really honest, whether it's negative or positive, so that there is hope to have a long lasting relationship. We must never be scared to speak our truths. So that way resentment doesn't set in. I've learnt from my previous 18 year relationship that there were things I could have done differently, and learnt to be honest and true to myself, and learnt to let go of my ego. Coming from a strong female empowered upbringing, I've learnt that is okay to be vulnerable, and not always needing to take the lead. Reconnecting with Adrian has made me learn to love myself more. I ain't 100% there yet, but I'm the closest I've ever been.
However I'll also answer that question again in ten years time!