Crazy, Stupid, Love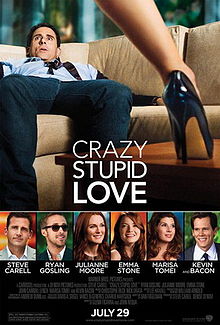 Our Lurve Spy has started working through a list of films he's been wanting to watch for a while, and this is one of them:
Crazy, Stupid, Love is often billed as a 'romantic comedy', sometimes a 'romantic comedy drama', but I think it's way too important-a-film for the Rom-Com label.  It is very funny, but I find that the humour is the type that comes from realish situations.  Personally, I would call CSL a romantic-drama, and I'll say it now and upfront – a very good one at that.  Issues pertaining to love are explored in various scenarios that most people will be familiar with – dealing with love when;  it's unrequited, not equally felt, not understood, lost its way and several other angles that plague us human beings whether you are a kid, teen or adult, which is an included factor.
I don't know why some critics didn't like the film, I think perhaps they took the film title too literally and expected the crazy part of the title to reflect some overly zany, frat boy action.  Either that or they did what too many critics do which is be over academic and show that they went to film school.
The 'crazy' and the 'stupid' refers to the situations love puts you in and how when you take a good look at your desires and reactions, they often are stupid and crazy – but that's how love makes you act.
This film is simply amazing.  Every actor in it puts in the absolute measure to create the correct performance, the dialogue is witty, sharp and human, yet the story straight forward.  The general public loved it too and CSL received many 'people's choice' type of nominations and awards, as well as making $142,851,197 at the box office – not bad for a film made for $50million.
Crazy, Sexy, Love is a bittersweet, then chocolate sweet experience, almost comically Shakespearian in parts.  If you are looking for a more subtle and sophisticated celluloid experience, having graduated from the Notting Hill, Friends With Benefits and No Strings Attached, you can't go wrong with this gem.
PS: Don't be fooled by the trailer, it's not flaky in any respect.
Rating 9/10
Lurve Spy:  That Dude D'Lambert